Sam Hsieh exhibition in Berlin
Sam Hsieh: The art of self-taming and self-exertion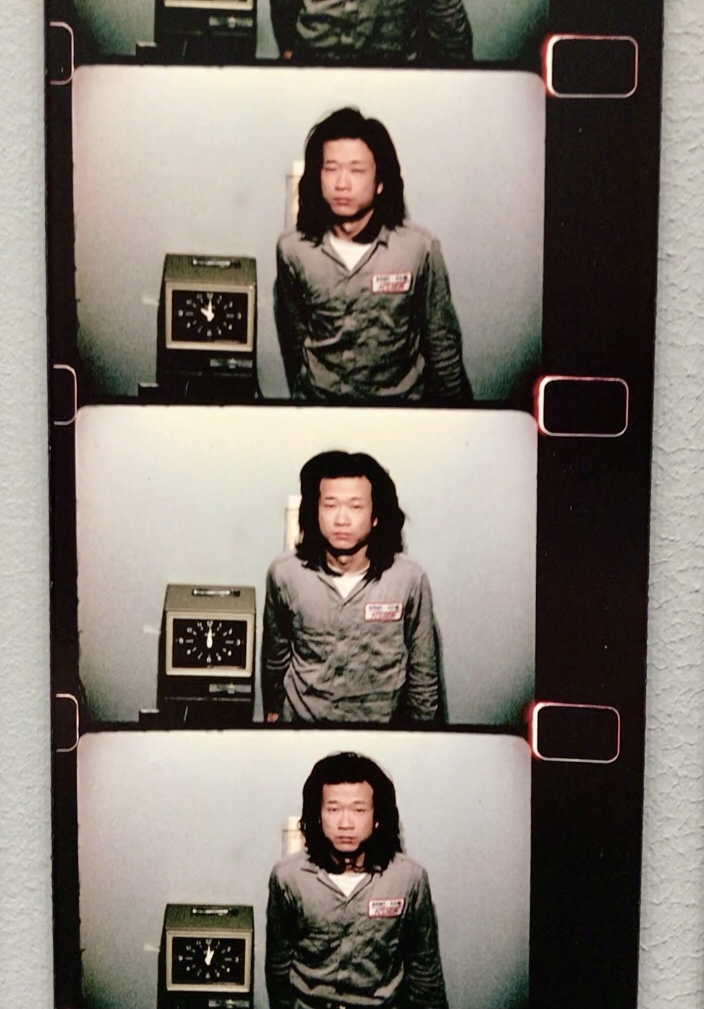 Yesterday I attend the talk with the Taiwanese artist Tehching Hsieh
Artistically known as: Sam Hsieh in the Neue National Gallery in Berlin.
This is his first museum exhibition in Germany and the artist personally presented his most important performative projects, which used to last 1 year or more.
During the talk he told how he left his homeland on a merchant ship and arrived as a stowaway in the United States, where he lived for 14 years without papers and without regularizing his migration situation. After several years of working washing dishes and other jobs, of being locked into a life of routine, of high demands, of selling his time and labor force, he felt he had reached a dead end.
The feeling of leading such a routine life from work to home inspired him to create his performances based on time, repetition, self-demanding, confinement and self-regulation.
With these cruel tests of himself, Sam Hsieh talks about art as a way of playing with the body and time, self-domination of the body is preferable to society's domination of us with its rules, schedules and division of time. Sam imposes absurd limits on himself, bordering on the inhuman. No talking, no touching, no sleeping, no shelter in any place with a roof for a year and living on the street.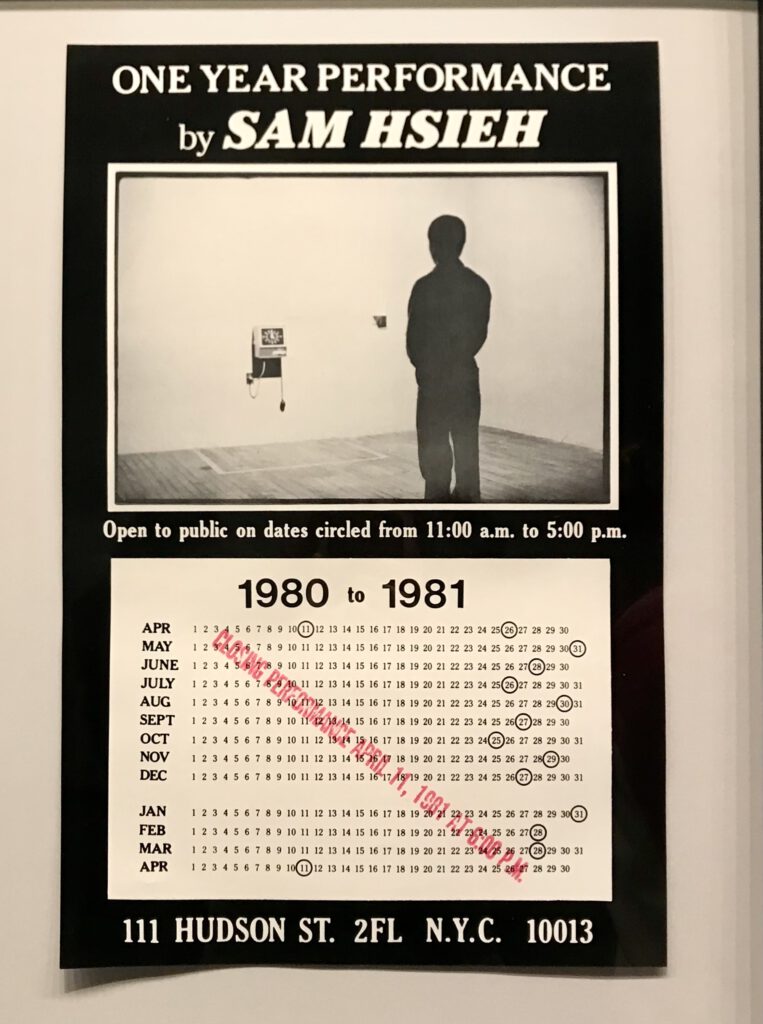 Self-imposed punishment, commitment to oneself, tests to overcome to demonstrate the impossible, to document the absurd and borderline with our nature.

One of his performances was about confinement and silence. Sam confined himself in a cell in a room, for 1 year, without talking to anyone, he could only receive a meal.

In another performance, the artist signed a document in which he committed himself to check a card, as in a factory, once every hour, 24 hours a day, for 365 years a year.

In another performance he was tied with a rope together with the artist Linda Montano, they had to share space and intimacy but without touching each other. The only thing allowed was to talk, although they recorded many hours of conversations.

One of the characteristics of his performances was to cut his hair at the beginning of the performance, to record the changes that occur in the body over the course of a year.

He first spoke about his most important performances and then talked with Museum Director Klaus Biesenbach, who previously served as director of MOCA in Los Angeles and as chief curator of MOMA in New York, also founder of KW Berlin and the Berlin Biennale.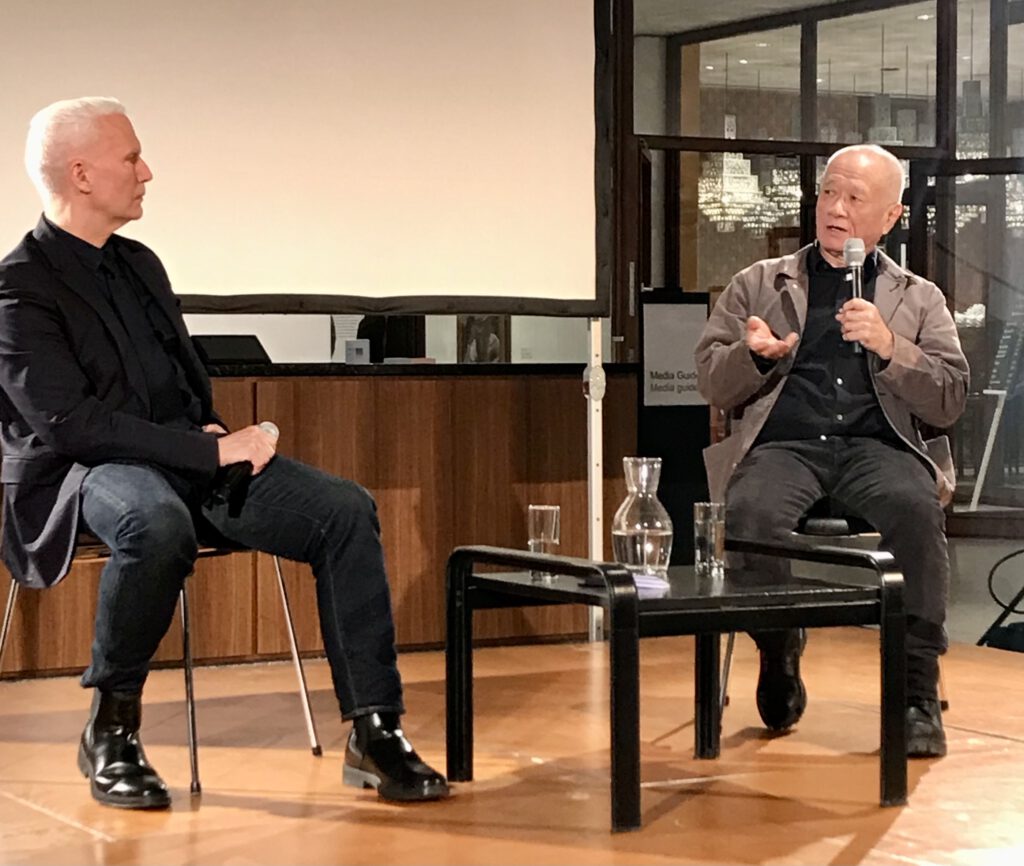 The exhibition at the New National Gallery Museum Berlin shows the documentation of the performance One Year Performance 1980-1981 (Time Clock Piece) in which he filmed 1 hour a day and will be open to the public.
The opening hours are:

Monday closed
Tuesday 10:00 a.m. to 6:00 p.m.
Wednesday 10:00 a.m. to 6:00 p.m.
Thursday 10:00 a.m. to 8:00 p.m.
Friday 10:00 to 18:00 hours
Saturday 10:00 a.m. to 6:00 p.m.
Sunday 10:00 a.m. to 6:00 p.m.

Admission is free every Thursday between 16:00 and 20:00 hours.

The exhibition will be open until July 30, 2023.
You can buy a ticket to avoid queues