Die Qual der Wahl, videoinstallation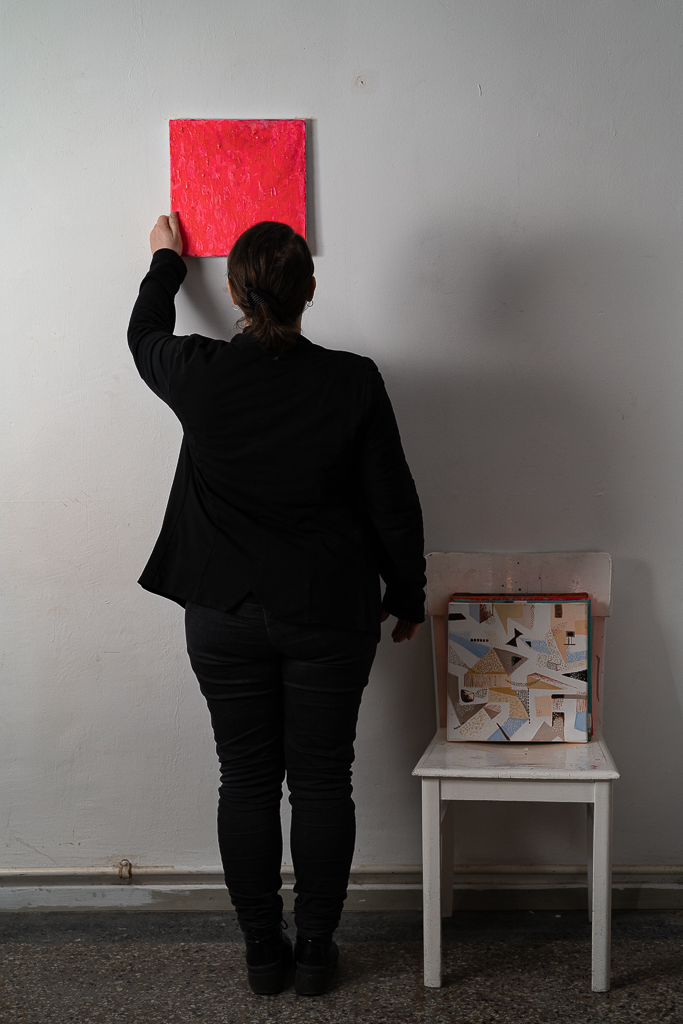 Every choice involves making a decision.
Why do we make the choices we make?

What aspects influence us to make one choice or another?
Is there objectivity in decision making?

According to neuroscience, we need only 5-7 seconds to make a decision based on complicated calculations that our brain makes before us.
But what happens after we have made a decision?

Have we made the right decision?
Or has it been a mistake that will have serious consequences?
This work is a multidisciplinary work, where audiovisual techniques, photography, animation, painting, performance, conceptual art and installation converge. But it also plays with the limits and between disciplines, and creates a world where reality and fantasy are confused.
This work is intended to be shown in the context of exhibition spaces,
in the form of a video-installation. The video is complemented by objects that are hung on the wall, with a symbolic charge in the world of art: a frame/canvas where the images of the paintings are projected on the chair and a golden frame, to give context to the paintings that the gallery owner changes.
There are also characters, 3 alter egos.
1-The gallery owner/cultural manager who makes decisions.
2-The observer of art and exhibitions who takes photos.
3- The artist, who doesn't understand why the painting has gone out of the frame and has to clean up the mess.
Produktion, Idee, Darstellung, Kamera: Maria Rapela.
Licht Beratung: Yoko Kotetsu
Beleuchtungsassistenz: Carolina Quesada.
Assistent für Fotografie und Stop Motion: Carolina Boettner
Beratung von: Ana Vallejo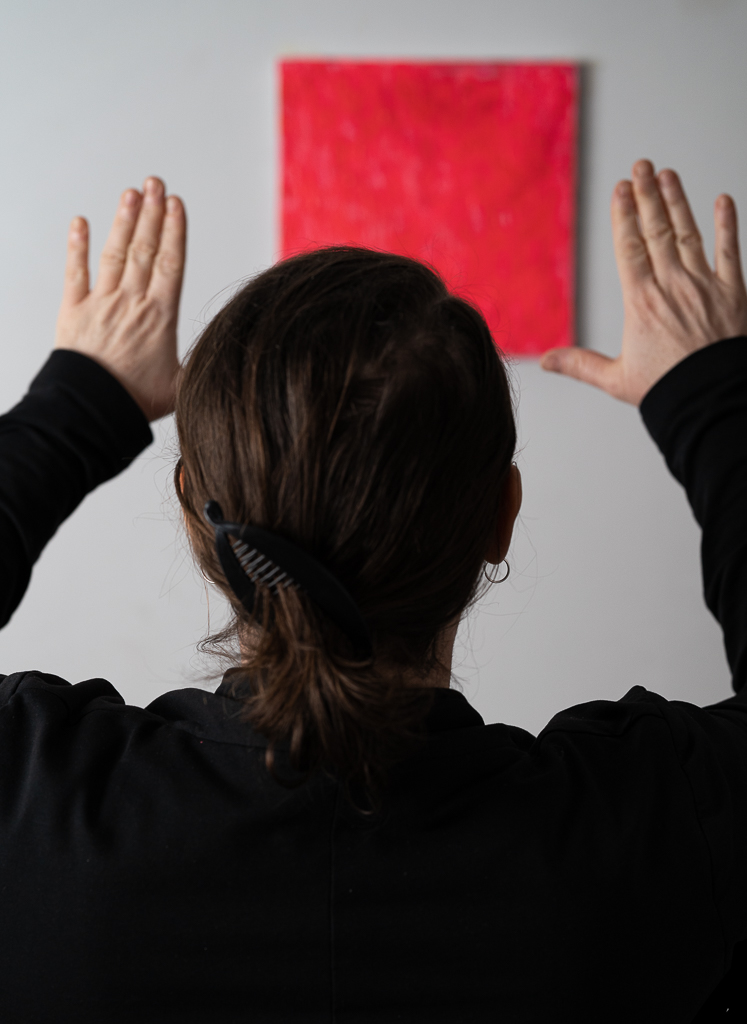 Deutsch
Jede Wahl bedeutet, eine Entscheidung zu treffen.
Warum wir die Entscheidungen treffen, die wir treffen?
Welche Aspekte beeinflussen uns, die eine oder andere Wahl zu treffen?
Gibt es Objektivität bei der Entscheidungsfindung?
Laut Neurowissenschaften brauchen wir nur 5-7 Sekunden, um Entscheidungen zu treffen, basierend auf komplizierten Berechnungen, die unser Gehirn vor uns ausführt.
Aber was passiert, nachdem wir eine Entscheidung getroffen haben?
Haben wir die richtige Entscheidung getroffen?
Oder war es ein Fehler, der schwerwiegende Folgen haben wird?
Es gibt solche mit einer Entscheidungsmacht und solche mit weniger Entscheidungsmacht. Die Entscheidungen der einen können sich direkt auf andere auswirken.
Diese Arbeit ist ein multidisziplinäres Werk, in dem audiovisuelle Techniken, Fotografie, Animation, Malerei, Performance und Installation zusammenkommen. Aber sie spielt auch mit den Grenzen und zwischen den Disziplinen und schafft eine Welt, in der Realität und Fantasie durcheinander geraten und mit Humor.
Es gibt auch Charaktere, 3 Alter Egos.
1-Die Galeristin/Kulturmanagerin, die Entscheidungen trifft.
2-Die Kunstbeobachterin, die Fotos macht.
3- Die Künstlerin, der nicht versteht, warum das Gemälde aus dem Rahmen gefallen ist und das Chaos aufräumen muss.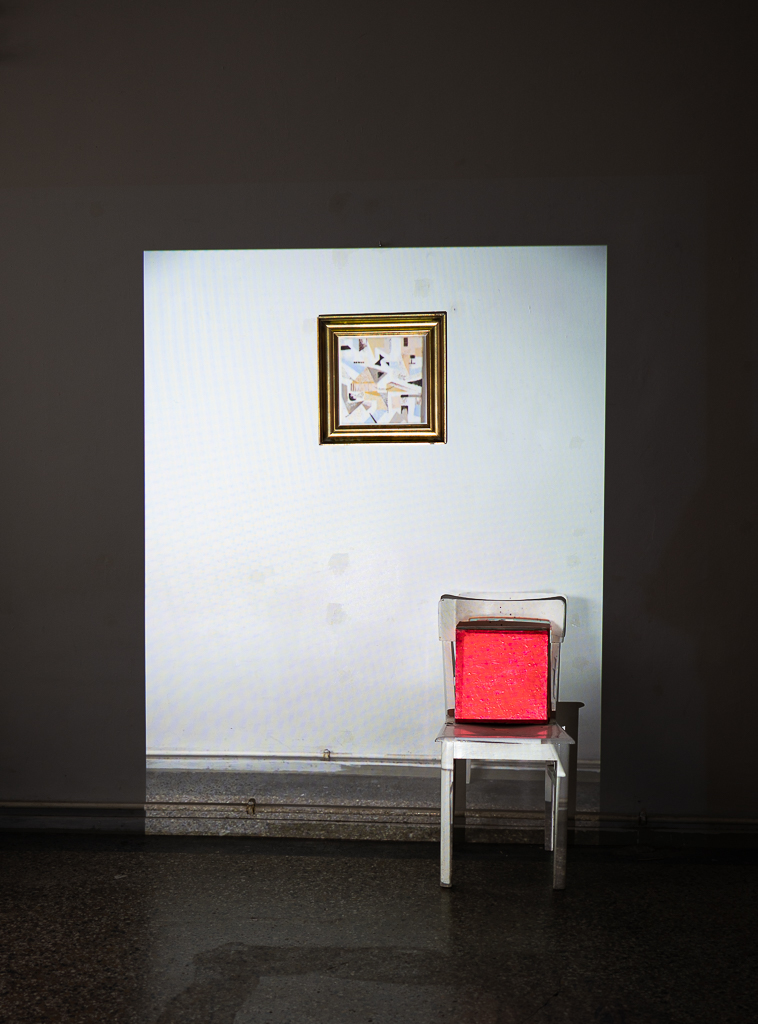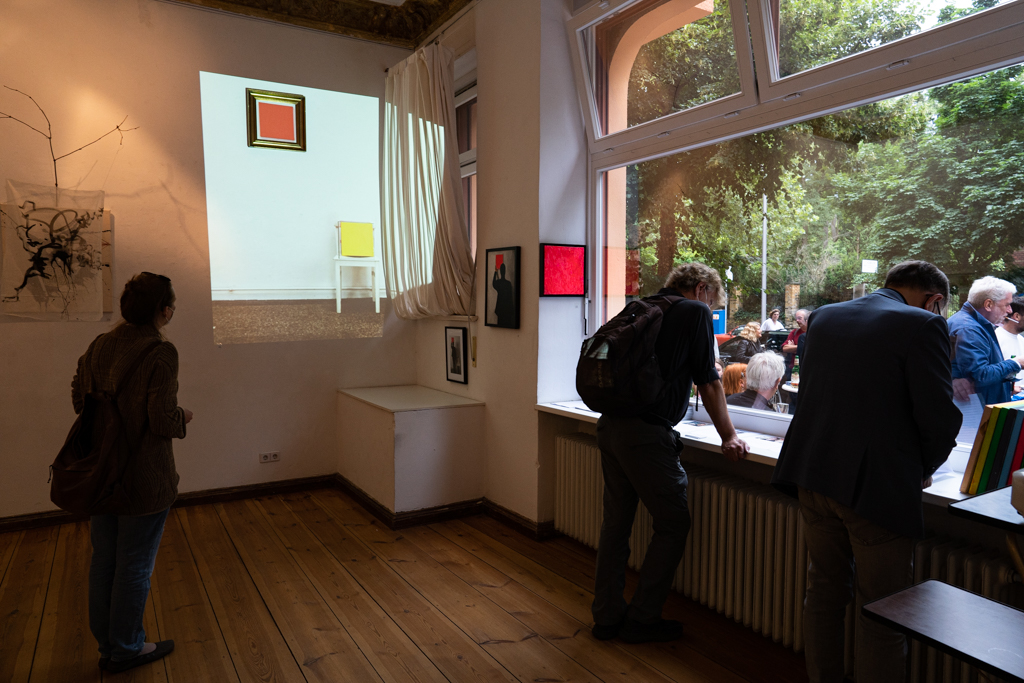 Español
Toda elección implica tomar una decisión.
Porqué tomamos las decisiones que tomamos,
que aspectos influyen para tomar una u otra elección?
Existe la objetividad en las desiciones?
Según la neurociencia, necesitamos tan solo 5-7 segundos para tomar una decisión
basadas en complicados cálculos que realiza nuestro cerebro antes que nosotros.
Pero que pasa después de haber tomado una decisión?
Hemos tomado la decisión correcta?
O ha sido un error que traerá graves consecuencias?
Este trabajo es un trabajo multidisciplinario, donde convergen técnicas audiovisuales, fotografía, animación, pintura, performance, arte conceptual e instalación. Pero también juega con los límites y entre disciplinas, y crea un mundo donde se confunden realidad y fantasía.
Este trabajo, está pensado para ser mostrado en el contexto de espacios expositivos,
en forma de video-instalación. El video se complementa con objetos que se cuelgan en la pared y con una carga simbólica en el mundo del arte: un bastidor con tela donde se proyectan las imaágenes de los cuadros que resposan en la silla y un marco dorado, para dar contexto a los cuadritos que cambia la galerista.
También hay personajes, 3 alter egos.
1-La galerista/gestora cultural que toma decisiones.
2-La observadora de arte y exposiciones que hace fotos
3- La artista, que no entiende porqué la pintura se ha salido del marco y le toca limpiar el desastre.